If you love washing your car on your front lawn on a hot summer's day, you're not alone. Detailing your car with yourself can not only save you time spent in line at a busy car wash but can also save you money in the long run. But there are a few different ways to go about it.
In the world of car washes, the main difference between a foam gun and a foam cannon is basically how the water is delivered to the foam container. A foam gun uses a garden hose, while a foam cannon is attached to a high-pressure hose. It's a much more pressurized version and can clean your car much more efficiently.
So if you like to do things yourself, one accessory that will make detailing your car a thousand times easier and a million times more fun is a foam cannon. So if you already own, or are in the market for, a pressure washer keep scrolling to check out our suggestions for the top 10 foam cannons and our tips for using them.
Tips For Using Your Foam Cannon
Foam cannons can shoot insane amounts of suds that can make any driveway or lawn look like a sudsy blizzard. So it's best to learn about a few guidelines before buying one or using it.
Tip 1: You Need The Right Pressure Washer
You need the right pressure washer to use with your foam pressure, to get the best effects. Rule number one for pressure washers is that when you're looking to do simple cleaning jobs around the house (including washing your car) it's best to use the electric version. It's much easier to tote around, it simply just plugs in, and it's not as unnecessarily powerful as the gas pressure washers available.
To find out more about the right PSI needed to clean your car and suggestions for the perfect pressure washers, check out our other article here.
Tip 2: You Need The Right Soap
While you can use any soap or shampoo for your foam cannon, some are better than others. In short, they will give you more "foam" than others can, and provide a better clean that won't strip anything away from your car's paint job.
So if you're looking to buy some soap for your foam cannon, go to an auto store or shop online for soap that is specifically designed for cleaning cars, such as CarPro Reset or AutoFiness Avalanche Snow Foam.
Tip 3: Dilute With Warm Water
Your foam cannon is designed to create the perfect mixture of air, water, and soap that will turn into foam. Using water that is warmer helps aerate the mixture and create a better foam.
Another tip is to never shake the solution of warm water and soap once you put them into the canister. Instead just mix it by swirling the bottle to prevent too much foam building up inside the canister.
Tip 4: Rinse Your Car
For the best effects, be sure to rinse your car before using your foam cannon on it. By washing it off with water with your pressure washer you can easily remove the dirt and debris that would otherwise be rubbed into the paint job.
Tip 5: Use A Washing Mitt For The Cleanest Car Experience
Using a washing mitt makes it easy to use those suds to get the cleanest car of your life. That way you can hand wash every spot, and go over your car with a fine eye. This way you can avoid the swirls or minor scratches that accompany normal car washes.
Tip 6: Maintain Your Foam Cannon
It's better to put your foam cannon away only after you have rinsed it out. Storing it full of water and soap can create calcium deposits that build up and don't allow it to shoot out the maximum amount of foam.
After each use just empty the bottle, rinse it with clean water and reattach it to your pressure washer to shoot all the water out until it's clear of any soapy residue.
How To Choose A Foam Cannon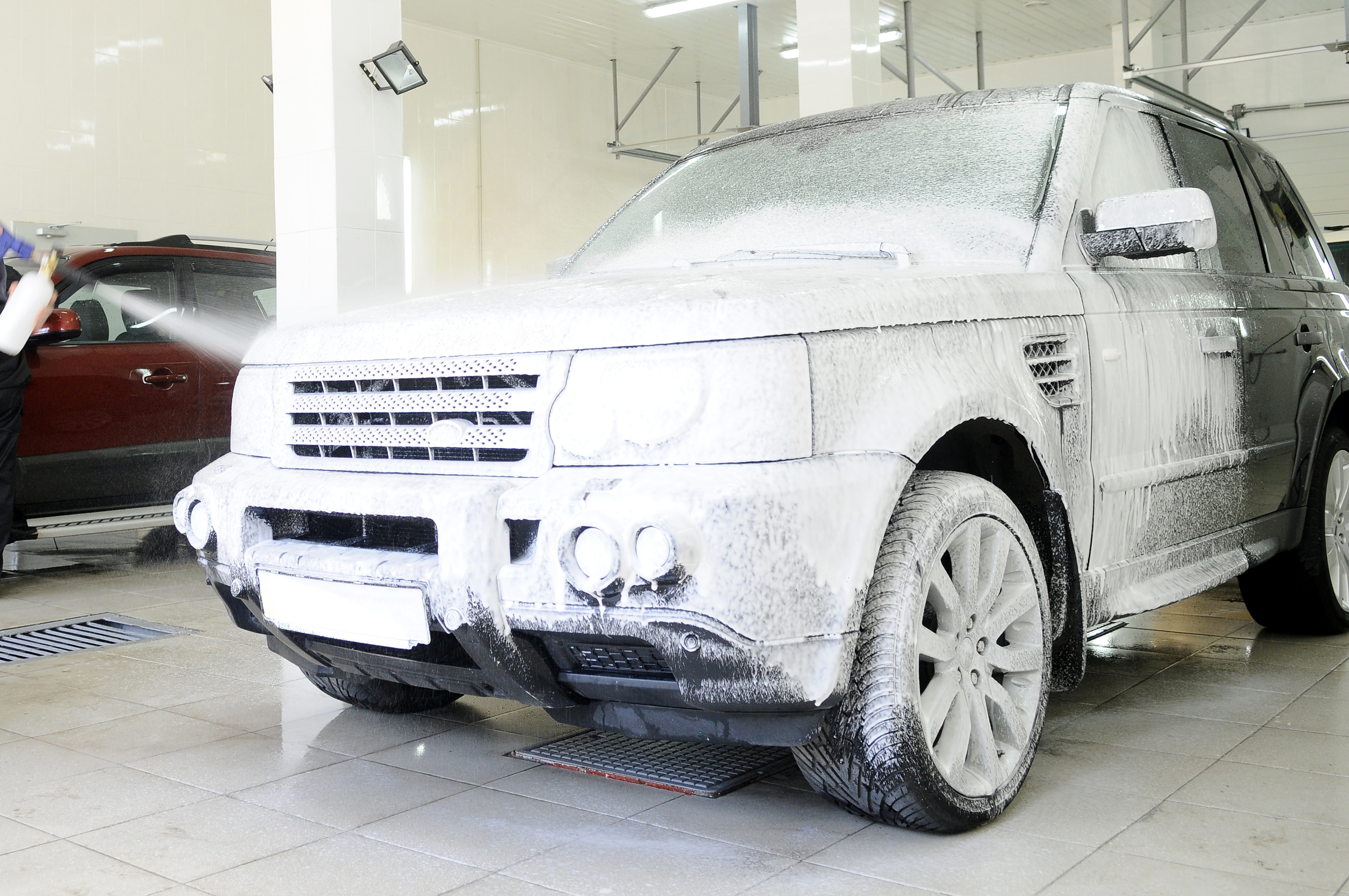 Though they all may look the same, there are still a few aspects of foam cannons that are different. Among those differences is overall size, the quality of the bottle, and the quality of the connectors.
If you're going to be spending a lot of time detailing your car, you're going to need to choose the right bottle that will fit your pressure washer, and that will last a long time. Something a lot of people don't consider is that the most common issue with foam cannons is that bottle can easily break at the neck.
Fit
While most foam cannons come with adaptors that fit most pressure washers you need to make sure that the one you buy has the proper connector before you purchase it.
And if possible, choose the one that comes with a metal (which is usually brass) connector instead of the cheap plastic one. While plastic is cheaper, it will most likely crash after a few uses.
Minimum Pressure Requirement
Some foam cannons have a minimum pressure requirement. While most pressure washers have around the same PSI (pressure per square inch) some aren't as powerful as they need to be, and some may be too powerful, such as the gas pressure washers.
Capacity
Capacity is a big question when it comes to foam cannons. The size of the bottle, if too small, won't give you enough mixture to clean your giant truck if that's the car sitting in your driveway.
A 30-ounce bottle is great for any size of vehicle and you should never have to refill during your washing session like you would smaller bottles.
1L (33.8 Ounces) sized bottle
Connects to most pressure washers
Spray angle and suction amount can be easily adjusted
Working Condition: 1000 PSI to 3000 PSI
Max Temperature: 60℃ / 140℉.
Average Price: $25
1L (33.8 Ounces) sized bottle
The bottle is made of strong, translucent plastic
Connectors are made of high-quality brass and copper
The amount and thickness of the foam output can be controlled with a simple to use knob at the top of the cannon
The angle of the output is also adjustable
Can be used both with electric and gas-powered pressure washers.
Average Price: $39
1L (33.8 Ounces) sized bottle

Uses 1/4″ quick disconnection fitting
Connectors are made of quality brass
Adjustable Spray Nozzle for accurate mixing and foam generation
Heavy-duty design for those who want to use as much pressure as possible
Average Price: $17
1L (33.8 Ounces) sized bottle
The bottle is easy to grip and won't tip over
Two-stage nozzle with an adjustable spray pattern
Adjustable fan blades (narrow or jet)
Adjustable chemical injection knob
Can take up to 5,000 PSI and 5.3 GPM of pressure
Very heavy duty foam cannon
Average Price: $89
1L (33.8 Ounces) sized bottle

Adjustable Snow Foam Lance that comes with a 1/4″ quick connection fitting
The connector is made of quality brass
Adjustable spray nozzle for thickness and spray pattern
Maximum pressure can be up to 3000 PSI and 5.3 GPM
Average Price: $17
1L (33.8 Ounces) sized bottle

Foam Lance core is made of quality brass
Can be adjusted to allow you to dial in the sprayer for any situation
Maximum pressure of 3000 PSI or 5.3 GPM
Durable, translucent bottle so you can see how much mixture you have left while washing your vehicle
Average Price: $17
1L (33.8 Ounces) sized bottle
Adjustable Foam Lance, foam cannon with 1/4″ quick disconnection fitting
5 pressure washer nozzle tips, 1/4 Inch, 2.5 GPM, with different angles
Quality brass connectors
Average Price: $18
1L (33.8 Ounces) sized bottle
Extra wide neck that will prevent the problem of cracking
Works with any pressure washer with any PSI
Average Price: $32
Adjustable foam lance with 1/4″ quick disconnection fitting
1L (33.8 Ounces) sized bottle
Easy installment: Plugs directly to your pressure washer; All the connectors are made of quality brass.
Adjustable spray nozzle Can be used with most pressure washers
Average Price: $15
If you're looking for a pressure washer that has a foamer built in, a great pick is the Wholesun 3000PSI Electric Pressure Washer.
As a high-pressure foamer, the polymer corrosion-resistant detergent bottle can loose tough stuff or remove deep stains
The powerful 1600-Watt motor generates up to 3000 PSI/2.4 GPM
Professional metal garden hose connector and 22mm metal water outlet
Comes with a 20ft high-pressure hose (with a metal connection) to avoid annoying water leakage
Average Price: $139